Dental Implants
What are dental implants?
A natural tooth consists of a root and a crown. If you compare natural teeth to implant-supported replacement teeth, you'll see they have the same basic parts. Both have a crown (the visible part used to chew food). Both have a root that holds the tooth securely under the gum and is anchored into the jaw. The difference is that the implant is made of titanium — the same time-tested material used by surgeons for artificial joints. When you lose a tooth, you lose both the root and the crown. To replace the tooth, the surgeon first replaces the root with similar sized dental implant.
How long do dental implants last?
Done properly, the placement of dental implants is one of the most successful processes in dentistry.
First, your surgeon places your implants into your jaw where the teeth are missing. The implants require 2 – 6 months to bond, or what is called "osseointegrate" to your jawbone. Once fully osseointegrated — they cannot be removed or unthreaded from you jawbone. They proved a very stable platform to support your new teeth.
During this time your dentist typically can provide teeth to fit over this area if it necessary for esthetics or chewing.
Once we verify the implants are fused or "integrated" to your jawbone, utilizing the Periotester from Siemens, and a radiographic analysis, the implants are ready to have teeth attached onto them.
Typically the teeth are literally screwed onto the implants, making the process simple for you. Most patients experience minimal disruption in their daily life.
Dr. Loetscher typically places your implants utilizing general anesthesia or IV sedation. This makes the procedures very easy from your standpoint, and allows increased procedure sterility and technical proficiency.
Often now we use guided or navigated surgery, where the dental implant is placed in an exact pre-determined position, and the tooth or healing abutment can be pre-made, and delivered at that time. We often can scan and deliver a temporary tooth onto the implant that day or the next day, often eliminating the need for removable appliances, dentures, or flippers. The only caution is the temporary teeth are only on one or two implants — you must avoid full force chewing on these temporary teeth for 2-4 months.
Our full time lab technician does this design and guide fabrication from a pre-op intra-oral digital scan (Trios 3-shape Scanner).
Time is allowed for bone to heal and grow around the dental implant. The bone bonds with the titanium, creating a strong foundation for artificial teeth. A support post (abutment) is then placed on the implant and a new replacement tooth (crown) is placed on the implant. In many cases a temporary replacement tooth can be attached to the implant immediately after it is placed. If all of your teeth are missing, a variety of treatment options are available to support the replacement teeth.
---
Surgical Advances in Dental Implants
Several things have vastly improved the replacement of teeth with implants.
Digital Smile Design — we now can plan the esthetics and function of your new teeth prior to removing the old teeth. We use smile libraries of beautiful teeth, with natural contours, so your teeth look very real.
The thread pattern on certain implants have been re-designed allowing us to place teeth on them immediately for you.
When implants are placed in the your smile zone — we can mill provisional teeth at very reasonable costs — to allow you to test drive your smile and teeth.
Dental implant placement is a team effort between an oral and maxillofacial surgeon and a restorative dentist. Dr. Loetscher performs the actual implant surgery, initial tooth extractions, and bone grafting if necessary. The restorative dentist (your dentist) fits and makes the permanent prosthesis. Your dentist will also make any temporary prosthesis needed during the implant process.
"Don't be afraid to Smile."
For years I'd felt like a part of my body was missing — because my teeth were. My dentist told me that dental implants would make me feel and look a lot better. OK, I said. Now, I'm thrilled. I can smile, eat anything, and enjoy a good laugh with my friends.
How long does it take to get a dental implant?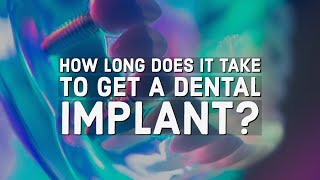 What Types of Prostheses are Available?
A single prosthesis (crown) is used to replace one missing tooth each prosthetic tooth attaches to its own dental implant implant. A partial prosthesis (fixed bridge) can replace two or more teeth and may require only two or three implants. A complete dental prosthesis (fixed bridge) replaces all the teeth in your upper or lower jaw. The number of implants varies depending upon which type of complete prosthesis (removable or fixed) is recommended. A removable prosthesis (over-denture) attaches to a bar or ball in socket attachments, whereas a fixed prosthesis is permanent and removable only by the dentist.
Dr. Loetscher performs in-office implant surgery in a hospital-style operating suite, thus optimizing the level of sterility. Our facility allows us to handle all types of implant patients and their associated medical conditions. When needed we can perform extensive bone grafting, in a very cost-efficient environment.
Why Dental Implants?
Dental Implants Presentation
To provide you with a better understanding of dental implants, we have provided the following multimedia presentation. Many common questions pertaining to dental implants are discussed.
Once you learn about dental implants, you will realize they can dramatically improve your quality of life. They cannot only restore function, but also provide a gorgeous smile.
Dental implants can be your doorway to renewed self-confidence and peace of mind.
A Swedish scientist and orthopedic surgeon, Dr. Per-Ingvar Branemark, developed this concept for oral rehabilitation more than 35 years ago. With his pioneering research, Dr. Branemark opened the door to a lifetime of renewed comfort and self-confidence for millions of individuals facing the frustration and embarrassment of tooth loss.
Why Would You Select Dental Implants Over More Traditional Types of Restorations?
There are several reasons: Why sacrifice the structure of surrounding good teeth to bridge a space? In addition, removing a denture or a partial at night may be inconvenient, not to mention that dentures that slip can be uncomfortable and rather embarrassing.
View our Dental Implant Gallery
What Type of Anesthesia is Used?
The majority of dental implants and bone grafts are done utilizing general anesthesia or IV sedation. Implant placement and bone grafts are technical operations. The deeper anesthesia improves the operating environment, allowing more precise surgery and improved patient comfort.
Do Dental Implants Need Special Care?
Once the implants are in place, they will serve you well for many years if you take care of them and keep your mouth healthy. This means taking the time for good oral hygiene (brushing and flossing) and keeping regular appointments with your dental specialists.